With Thanksgiving mere days away, it's likely that your mind is more aligned to turkey than toothbrushes. 
However, if you are traveling this holiday season, it's important to remember to practice good oral health habits—especially since your routine will be broken right when your diet becomes filled with heavy foods.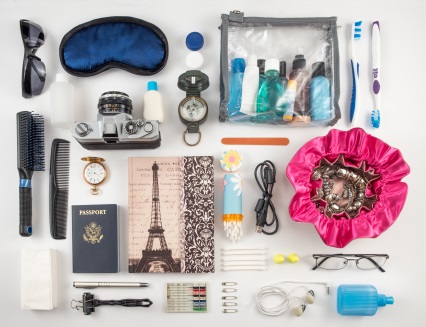 Leading up to a trip, you might be more preoccupied with your grocery list than your packing list, so we're going to give you a checklist of things to remember for tooth-healthy travel this holiday season. And who doesn't love a good list this time of year? If you have any additional tips or tricks for keeping your teeth photo-ready throughout the holiday season, leave the team at Josey Lane Dentistry a comment below! 
 1. Check in with your dentist 
If you are experiencing twinges of pain or are concerned about something dental-related, do NOT write it off and hope to "get to it" after the holidays. During the holidays you might be traveling or otherwise unable to contact your normal health care providers. This makes it more difficult to seek a solution to problem that turn from "twinges" to an urgent need. 
Knowing which dental issuers are potential emergencies compared to those that could be addressed with home remedies ensures you can be better prepared. However, if you are ever concerned that an issue might be straddling the line, don't hesitate to give Josey Lane Dentistry a call, even if it happens while you're away over the holidays—we often can even refer you to someone in the area where you're staying. 
 2. Leave the full size toiletries at home and opt for travel–sized varieties 
When it comes to packing, if you plan to pack toiletries into a carry-on bag for a flight, remember the 3-1-1 rule that prohibits you from taking any bottle of more than 3 ounces of liquid. 
When buying plane-safe travel-size toiletries, you can even use the opportunity to experiment with new products from the travel aisle. What you don't like, you don't have to worry about having "wasted" money on, because you only bought a small bottle! 
If you are checking a bag or doing a road trip, you can still opt for the travel–size option. First, products weigh less and take up less space in your bag. And second, if they do leak as bags are thrown around, there is less product to ooze all over your stuff.  
 3. Traveling with your toothbrush 
How you plan to pack your toothbrush is probably at the end of your long packing to-do list.  
How you pack your toothbrush is an important question to ask, however, as many frequent travelers note that their toothbrushes can become moldy with excessive travel. Can you imagine how gross that would be?  
There's real science behind the phenomenon, too. Mold grows on brushes since brushing your teeth is generally the last thing you do before you head out the door. Then, you put your toothbrush—still wet—into a plastic storage container and throw it in your bag. There it will stay for many hours and in many different temperatures. When you get to your destination, there is a strong possibility it will still be wet. In this swampy environment, bacteria and mold can grow and multiply quickly. 
Some travel sites suggest keeping your brush upright, but there is no knowing what will happen to your bag once it is checked in. 
Unless you have an extra toothbrush, it's often impossible it to dry a toothbrush out thoroughly before packing. To get the extreme wetness off (as a bare minimum), try patting it dry with a paper towel or napkin. Also, make sure the plastic container that you store it in for travel has been cleaned and is also dry inside. These can easily be run through the dishwasher prior to travel.  
 4. Watch out for the sugar 
We understand that it isn't realistic to completely skip all sugar consumption during the holiday season. And, as you well know, sugar acts as a magnet to bad bacteria in your mouth. 
Bacteria feeds on sugar and forms plaque on your teeth. If the plaque is not washed away by saliva or brushing, the environment in the mouth becomes more and more acidic, and cavities start to form. 
And yet, while you might know when you've had "enough" from that plate of cookies, it's important to remember that sugar is hidden in all types of food. This holiday season, remember that foods such as cranberry sauce, sweet potatoes and even dinner rolls are laden with hidden sugar. After indulging, remember to brush your teeth shortly after. 
If you are out and unable to brush, sip water while eating to wash some of the sugar off the teeth. Another option is to pop a piece of sugar-free gum. The American Dental Association notes that chewing sugarless gum for 20 minutes after a meal can help prevent cavities since it gets saliva flowing (which helps wash away cavity-causing bacteria).  
 5. Know your water source 
If you are traveling, it's important to know if the local water is safe to drink or use to brush your teeth. This doesn't apply just to overseas adventures to exotic locations, either—this also applies camping adventures where you might be using streams or rivers and filtering water. 
If you get unsafe—or even questionable—water on your toothbrush, it's prudent to replace it. It's recommended that you use bottled water to brush your teeth in situations where the water quality is unknown. 
 6. Get back on track at home 
Remember that the holidays are a short period of time, and everyone can "slip up" with their dental habits from time to time. Sharing bathrooms at a family member's house can also mean that you cut your nightly routine short, and flossing tends to suffer as a result. 
When you get home, it's important to get back into the routine of good oral health. This includes visiting your dentist for your bi-annual cleaning. If you are looking for a convenient location for your dental needs, then look no further than our Carrollton, TX office. Since this time of year can be tough to schedule, give Josey Lane Dentistry a call today to get your teeth into the best shape possible. 
We hope that you and your family have a lovely and restful holiday season!