When you think about how we're influenced by pop culture, you probably think about fashion trends or the newest food phenomena. 
However, have you ever considered that pop trends can also be found in your mouth? Just wait and see, because we're about to explain!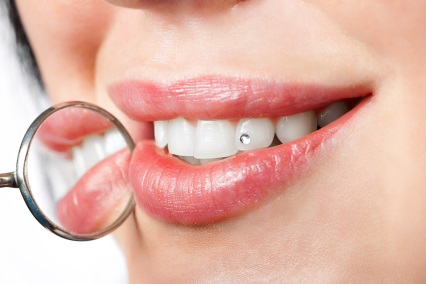 We're all familiar with how straight, white teeth are idolized by society today, and many people go to great lengths to fit this image. But what about gold teeth (remember grills from 15 years ago)? Many of these trends have been memorialized in music or movies, so even the ones that have gone out of fashion won't be forgotten any time soon. 
And now, keep reading as we take a trip down memory lane with dental "adornment" trends of recent years! What do you think will be the trends of the future? 
Gold teeth 
While Mike Tyson might have made gold teeth famous in the 1980, their history goes back much further. In fact, researchers found a man buried with two gold teeth that lived around the year 2,500 BC. 
This man wasn't the only example of people from the past having gold teeth, either. In fact, many Etruscan women used to have golden teeth as a marker of their societal status, a trend that continued until about 100 AD. 
What's more, many scientists believe that Filipino people wore gold teeth all the way back in 1500 AD! Today, gold teeth are only ever preferred for looks (rather than durability). Other materials have replaced gold for artificial teeth and fillings (such as porcelain or resin). But if you do need a filling, gold can still be an option.  
Crooked teeth? 
If you spend a weekend binge watching movies from the 1960s, you might notice that the actors sport more natural looking (and sometimes downright crooked) smiles. This isn't because there wasn't a way to correct their teeth, either. Instead, these natural smiles were sported to exemplify the "free-style," counter–culture vibes that were emerging at the time. Jane Birkin, Lauren Hutton, and Brigitte Bardot—all models, didn't worry about the significant gap in their front teeth when walking on the catwalk. Pop culture in this era focused on unique oral beauty instead of a one-size-fits-all standard.  
Grills 
While new stars like Miley Cyrus have been known to show off their grill, the birth of this accessory dates back to the 1980s. New York City jeweler Eddie Plein is considered to be the grandfather of the grill. Rappers like Kool G Rap and Big Daddy Cane made the grill ubiquitous in the rap culture. This trend went mainstream in 2005 with Nelly's music video Grillz. 
In 2013, grills made the jump from the rap culture to mainstream when Madonna was spotted wearing one, and shortly thereafter Rihanna added it to her VMA look. Finally, Katy Perry is infamous for sporting a $1 million purple gemstone and diamond encrusted in her music video Dark Horse.  
Tooth gems 
If grills are too flashy, then tooth gems might be more your speed. While they harken back to the 1990s, these tiny gems that are bonded to your teeth with a little orthodontic glue are sure to add a sparkle to your smile. 
In 2015, Katy Perry sported a bedazzled Nike swoosh on her tooth, and Drake chose a small pink gem to embellish his tooth. Many celebrities—including Pink—have chosen tooth gems over grills since it's easier to speak without the bulky, retainer-like grill and since the gems are adhered to the teeth and can stay on at all times.  
Tooth make-up 
Step aside, whitening products! New options like "tooth polish" are taking the beauty market by storm. These products are similar to nail polish in that they are brushed onto the teeth. From pink to blue to shades with a shimmer, these colors add a little "pizazz" to a smile. Makers of this product claim that it is both smudge proof and lasts on your teeth for at least 24-hours. Popular on Instagram with social media influencers, only time will tell if "pink teeth" will become a mainstream trend.  
Before taking part of any new dental trend, it's important to talk to your dentist. Tooth gems and grills can potentially cause long–term damage to your teeth. It's also important to be take care before putting any product on your teeth that's not approved by the American Dental Association. Don't let temporary trends lead to significant permanent damage! But don't worry, most of these products can be worked into your new "look" if you really fancy, just talk to us first!