This time of year, it's common to list what we are thankful for. The number one thing listed by most people polled are friends. Friends are followed by family, and then by health.  
However, as dentists and dental professionals here at Josey Lane Dentistry, we like to highlight dental advancements that we're thankful for, because they make our patients more comfortable and make treatments easier.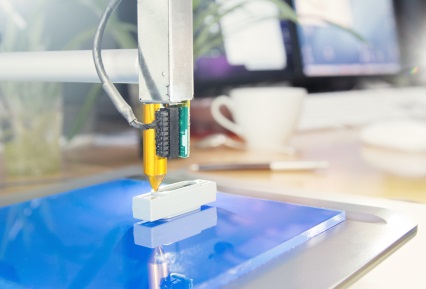 Of course, in addition to these advancements, at Josey Lane we are most thankful for all our patients—you make each day more fulfilling for us. Before we get into the dental science we're thankful for, we want to say thank you to each one of you who considers this Carrollton office your dental home.  
And now, here are some dental advancements we bet y'all are thankful for, too! 
3D printing 
3D printing has taken the dentistry world by storm. Some dental machines already boast printing speeds more than 100 times faster than your traditional 3D printer. This technology will allow dentists to create many dental materials more accurately, faster and cheaper than through traditional methods. Today, for instance, many dentists are relying on 3D printers instead of plaster molds. 
While 3D printing isn't a new invention for 2019, these printers have become more accessible due to lower cost machines. Patients reap the benefits of this advancement by expressing an increase in comfort and less time spent in the chair when receiving products made by a 3D printer. 
Lasers 
Lasers are no longer a thing of the future! Lasers improve efficiency and eliminate discomfort in a number dental procedures, including filling cavities, reducing tooth sensitivity, getting rid of tumors, and whitening teeth.  
Laser teeth whitening, in particular, has become a popular procedure to restore brilliance to your teeth. Available only in a dental office like our Carrollton location, this procedure is done by applying bleach to each tooth, then heating the bleach with a laser to enhance and speed up the whitening process. Since professional products are so strong, your dentist will take proper precautions to ensure your gums and lips are protected. When comparing laser teeth whitening to other teeth whitening options, though laser treatments are often the most expensive, they are also the most effective. 
Increased utilization of sedation dentistry  
In order to combat tooth decay and gum disease—or identify even larger issues such as oral cancer—patients must be willing to come to the office and sit in the chair. If fear or anxiety is what is stopping them, it's crucial to eliminate the fear.  
Sedation dentistry allows us at Josey Lane to do that. We believe that working with each of our patients and "meeting them where are they are" allows us to form better, longer-lasting bonds. In addition to relieving fears, sedation dentistry also allows us to complete several dental procedures in one visit. This minimizes the number of times a fearful patient has to come in, and also allows us to provide the best care possible.  
If you have anxiety or fears about visiting the dentist, call us today. We would be happy to walk you through what our office can offer in sedation dentistry. 
Gum contouring  
Just like patients who suffer from insecurities due to misaligned teeth, many of our patients are concerned about their gum lines. If your gums are too low or too high, it can leave you unhappy with your smile. However, there are options. 
Gum contouring procedures reshape the tissue in the gums and help even out the gum line to help you achieve a smile you are proud of. Deciding to go through with a gum contouring surgery is a highly personal decision, and it is important to discuss it with your dentist to ensure you are a candidate.  
Advancements in dentistry now allow lasers to be used instead of scalpels. This decreases recovery time and associated pain with gum contouring procedures. 
Dental implants 
While the idea of dental implants is not new (in fact, it dates back to 600 A.D.), recent innovation over the last several decades have brought this idea into the future. 
Over the last 30 years, dentists and researchers have learned more about how implants integrate with the jawbone. Today, many experts point to the discovery that titanium can physically bond with living bone tissue as the catalyst to the modernization of dental implants.  
Modern implants use titanium to form an artificial root of the tooth. Once surgically implanted into the jawbone, the titanium bonds with the jawbone and heals much quicker than previous iterations. This technology brings comfort, aid in eating and confidence to millions of Americans every year.  
Any one of these dental advancements we're grateful for could ultimately be one you're grateful for if you take advantage of the quicker, more economical and more comfortable procedures possible today! Want to learn more about one of the procedures above? Contact us now!