Do you hate the thought of going to the dentist? That's not good for your smile! If you avoid dental visits because of fear or nervousness, difficulty sitting still, a strong gag reflex, or even physical disabilities, sedation dentistry can help.
How Sedation Dentistry Works
We offer a variety of sedation options to meet your most specific needs. From the traditional method of nitrous oxide to IV sedation, we can make your experience completely painless and serene. Sedation dentistry is helpful because not only does it reduce anxiety and pain, but also because it helps your muscles relax– and, no surprise here, dental anesthetics work better on a relaxed body.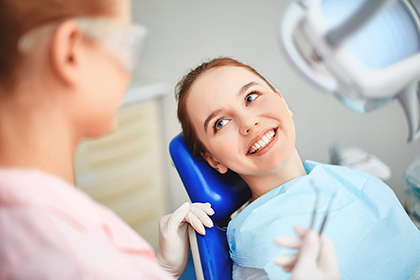 Is Sedation Dentistry Just for Those with Dental Anxiety?
While sedation dentistry can be life changing for those with dental anxieties or fears, it is also great for anyone who needs to have more extensive dental procedures completed. So much time and effort can be saved saved when you can have all your dental work done in one day! You'll essentially sleep through all the work and wake up feeling as if you have had a nice, long nap.
Oral Sedation
For oral sedation dentistry, we will prescribe a relaxing little pill that you take prior to arrival at your dental appointment. Because this medication causes drowsiness (one of its most appealing attributes), you will want to have someone drive you to and from your appointment. Once you arrive, take a moment to relax with a cup of tea before your appointment (I think this might be over-promising a bit, the office smells good, but it's not aromatherapy? and breathe in the soothing scents of aromatherapy.) Then settle in to the chair with a blanket, cozy pillow and even some earbuds for music, and drift away on a dreamy cloud of relaxation. Someone is always with you, monitoring your well being at all times.
IV Sedation
Also known as "deep conscious sedation," this technique allows medication to be administered directly into your bloodstream. The advantage of IV sedation is that the level of medication can be immediately increased if it is necessary. Your vital signs will be continually monitored to ensure that you are safe and relaxed throughout the dental procedure.
What if I Don't Want Oral or IV Sedation?
For those who don't really want sedation dentistry but need a little help to stay relaxed in the chair, we offer Nitrous Oxide, more commonly called "Laughing Gas" because of the slight feeling of euphoria it causes for some. Nitrous oxide is delivered right here in our office. It takes effect very quickly but as soon as the gas is turned off, you'll start awakening. We give you some pure oxygen to breathe and before you know it, you'll feel as alert and ready to go as you did when you came in.
Leave Our Office Ready for the Rest of Your Day with OraVerse
No one likes slack muscles from anesthetic still filling their face after a dental visit. Many children and some adults manage to bite their lips or tongues as the anesthetic fades, extending the inflammation and discomfort of any dental procedure.
We want our patients to feel their best when they leave our office. That's why for over a year now, we've offered OraVerse, the only anesthetic reversal option on the market. Not only does this simple injection reverse numbing twice as fast, but most that've used it are smiling, eating, and speaking more quickly following an appointment. Normally, it can take up to 4 hours to await the wear off of numbness, but in clinical trials and many of our cases, this wait time reduces to just over one hour. Drooling is also minimized, so you don't have to worry about embarrassing moments.
With OraVerse, you can get your dental work done in our office and get back to your day!