Watching technology trends is a favorite hobby among our practitioners here at Josey Lane Dentistry. From advancements in smartphones to home gadgets that can lock your doors and turn on your lights, sometimes is seems like we are living the Jetson's era.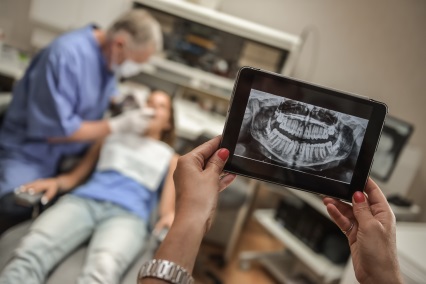 However, technological improvements are much broader than just the "Gee-wiz!" advancements you see on TV or carry in your pocket. At Josey Lane Dentistry, we try to stay on the cutting-edge of dental advancements, in particular. These technology upgrades not only push our clinical practice forward but also benefit patients by offering the ability to receive more complex procedures in a quicker, more comfortable environment every time.  
Our dedication to continuing education allows our dentists and staff to constantly learn more about evolving technologies and trends in dentistry. Below are some of the biggest advancements of 2018. You might have even noticed some of these integrated into our practice this year! 
Ultrasound imaging 
As dentists, we're always excited to discover new technologies that can make appointments easier for patients while keeping their teeth healthy. Ultrasound technology is one budding innovation that allows dentists the option of radiation-free imaging and 3D images of teeth. There is still work to be done here, since the images are not always very crisp. However, there are always new breakthroughs in ultrasound technology and we hope it will eventually be a viable alternative to traditional x-rays! 
3D printing  
3D printing has taken the world (and dentistry world) by storm. A new proprietary method opened by Carbon boasts printing speeds more than 100 times faster than traditional 3D printers. This technology has already begun to be harnessed in the dental world by using 3D printers to make dentures. Traditional plaster molds can take weeks to finalize, which delays treatment. And, if we're honest, errors in the mold can mean dentures don't fit correctly and need adjustments that end up being disappointing for patients. In addition, patients are now experiencing increased comfort and less time spend at the dentist thanks to products produced by 3D printers. This technology will allow dentists to continue doing everything with greater accuracy, increased speed and cheaper overhead than with traditional methods. And this results in even more benefits for the patient! 
Improving impressions 
We know that many patients dread the traditional plaster molds, for the litany of procedures they're used for. Molds can be bulky and cause those with a strong gag reflex extreme anxiety. But interoral scanners provide digital dental impressions. Teeth and gums can be scanned quickly with a high level of patient comfort and give the most accurate results to the dentist. The scans can also show abnormalities in coloring in the mouth, which can lead to better preventive dentistry and treatment of issues before they ever have the chance to become severe.  
Better cavity detection  
Emerging technologies are allowing dentists to detect cavities faster and with more accuracy than ever before. Early detection prevents a tooth from decaying further or causing more significant issues in the root and gum. These new technologies use near-infrared light and run on a transillumination technology that makes it easier for clinicians to see through the tooth and observe any abnormalities. This technology is less invasive than x-rays and provides an option for cavity dedication for those who can't be exposed to radiation.  
Here at Josey Lane we are looking forward to 2019 and the new continuing education classes we will take. We'll be following these emerging technologies and exploring every way to serve each of our patients better! 
---
Also published on Medium.