While many of us are stuck at home for the next couple weeks, that doesn't mean we can't take this time to practice a little self-care. There are numerous over–the–counter products that can give you that "just left the dentist's office" feeling without even leaving the comfort of your own master bath. 
In addition to highlighting some of our favorite products, we will also feature some at–home remedies for common oral ailments. These treatments are meant to be a stopgap until you can visit your dentist. If you are having any serious dental issues, remember you can give our Josey Lane Carrollton, TX office a call at any time.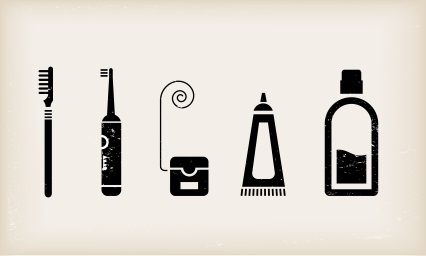 Most luxurious toothbrushes 
We all have a trusty toothbrush by the sink in the bathroom. However, when you see it, does your toothbrush really "inspire" you to brush your teeth? 
Probably not. 
While you might not be seeking inspiration in a toothbrush, that doesn't mean you can't have a device that both looks nice and works like a charm. The Goby meshes both form and function and looks like it walked straight off a movie set. It has vibration reminders to switch sides while brushing, plus a built-in timer. While this doesn't put it on the cutting–edge of features, the looks make up any deficit. 
If gadgets are your thing, then the Brüush—with its six different brushing features—might be the best toothbrush for you. With settings for daily, white, gentle, gum, max, and tongue brushing, you are guaranteed to get a comprehensive cleaning every time. 
Finally, if you want to try natural bacteria fighting agents, then maybe an activated charcoal toothbrush is the right choice for you. Several companies are harnessing consumers' interest in charcoal to produce brushes that include activated charcoal right in the bristles. The all–blacked–out brush aptly called the Ghostly Toothbrush is made in Japan and utilizes the charcoal known as Binchō-tan, infused in each bristle to naturally deodorize the mouth, prevent bad breath, and help remove plaque. 
At-home teeth whitening  
The popularity of tooth whitening has been quickly increasing, making it the most popular form of cosmetic dentistry on the market. If you are looking for something to boost your mood and make you feel like a million bucks, then teeth whitening is a great option. If you are looking for an at-home option, the products are all generally safe. However, excessive teeth whitening is more likely to result from abusing over–the–counter whiteners as opposed to in-office services. We recommend using at home kits for a maximum of two weeks at a time. While some treatments may boast a 30-day regime, those are more likely to cause harm. In addition, after completing a two-week at-home treatment, it's important to give your teeth at least six months to rest. 
If you are looking something on the cutting edge of technology, look at products like the GLO Professional Whitening System, which is one of the easiest and most effective professional–level whitening products that can be applied at home. This product combines LED light and warming GLO heat to accelerate whitening. With normal gels or strips used in other whitening products, you have to commit to doing the treatment for a least a week on end. GLO only requires 32 minutes a day for five days in a row. While the upfront cost is steeper than other at-home products, the cost is arguably offset by the results.  
Toothpaste 
If you're anything like us, you've probably been using the same brand of toothpaste since you were a teenager. Taking the market by storm, however, are new "luxury" brands of toothpaste.  
Intrigued yet? 
As dentists, we would be remiss not to remind our Carrollton patients to make sure that the toothpaste they use includes fluoride, since some luxury brands do not. 
One popular toothpaste that comes with a luxury price tag of $19 a tube is Aesop. By the Italian brand Marvis, and founded in 1958, this toothpaste has apothecary-chic packaging and comes in unique flavors like jasmine, ginger, and licorice. 
Another option is the French favorite Buly 1803, a paste blended with mineral-rich thermal water from Castéra-Verduzan, the first spa town in France. These tubes come in flavors such as apple, orange-ginger-clove, and mint-coriander-cucumber. This is also one of the most expensive toothpastes at $29 a tube.  
At-home remedies in case you have oral issues this week 
Since many of you might be quarantining at home right now, you could be wondering what to do if you experience a minor dental issue. Please remember that you can call us if you are having an emergency or are experiencing pain that does not get better. 
If are having tooth pain that you think may be the result of an abscess (specifically because you've had that same abscess treated recently), try a salt water rinse to help your aching teeth and to promote wound healing and protect your gums. To do this, mix 1/2 a teaspoon of salt into a cup of warm water. Rinse your mouth out and swish the liquid for at least two minutes. Repeat this routine up to three times a day. In lieu of salt, you can substitute baking soda that has the benefit of having anti-bacterial properties, too. 
For swelling or pain on the outside of your mouth, a cold compress can help numb pain and provide relief. Place an ice pack or a zip lock full of ice inside a washcloth. Use the compress in 15–minute intervals. This should provide temporary relief. Finally, for a toothache try using peppermint which has proven pain relief properties. Prepare peppermint leaves in boiling water and let it steep for 20 minutes. After allowing the liquid to cool, swish the peppermint tea several times a day. If you have peppermint tea in a bag, the bag can be placed on the affected area to provide similar medicinal benefits.  
Have other questions? Call us or reach out to us right here on the website!