If you're suffering from minor tooth decay, but traditional composite fillings are no longer working, no need to fear! 
Did you know you have other options?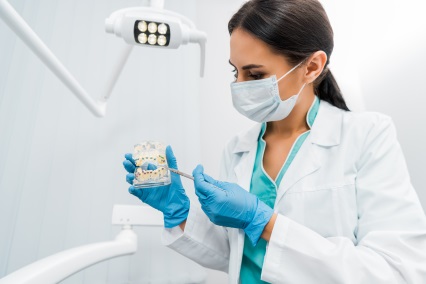 Treating tooth decay is essential, since it can pervasively and sometimes quickly affect other systems in your body. Tooth decay has even been shown to increase your risk of heart disease.  
However, if you have been told that pulling the tooth and replacing it with an implant (which can be an invasive procedure) is your only option, we understand why you might have been hesitant to move forward with a treatment plan. 
If this describes you, then it might be time to discuss your candidacy for inlays and onlays with your dentist. These procedure can restore your smile with little time spent in the dentist's chair, and even less discomfort! 
What are inlays and onlays? 
Inlays and outlays are used in molars or premolars when the tooth has experienced too much damage to support a basic filling, but not so much damage that a crown is necessary. 
The main differentiating factor between the two is the amount of the tooth that is covers. An inlay covers less of the tooth by covering mainly the chewing surface, while an onlay covers the entire cusp of the tooth. 
Am I a candidate? 
If you're living in or around Carrollton, TX and wondering if you are a candidate for these procedures, then give Josey Lane Dentistry a call today. If tooth decay has resulted in significant damage that can no longer be supported by a traditional filling, then it's important to know that you have options, but act quick. The damage has gotten bad enough that it could compromise other systems in your body.  
Patients who can support the basic filling procedure are in great shape to have an inlay or onlay put in, too. 
How is an inlay or onlay different from a composite filling? 
Inlays, onlays and composite fillings all serve a similar purpose: they fill the gap created by tooth decay to provide enough support that the tooth is brought back to its natural strength. Chewing and speaking are restored, decay is stopped in the cavity, and pain is done away with for good. 
A composite filling is a quick and easy tooth restoration process that can be completed in a single office visit. The dentist will take the composite material and shape and mold it so that it securely fills the void left after the tooth decay has been removed cleanly. While this helps prevents the spread of tooth decay, it isn't always an ideal treatment option when the portion of decay was relatively large. 
Unfortunately, for many of our patients, the tooth decay has progressed in such a manner that a composite filling is no longer the optimal treatment plan. Since more work needs to be done, an inlay or an onlay will require two trips to the dentist to complete the treatment. 
The first appointment will allow the dentist to take impressions of the tooth that needs to be repaired. That impression will ensure the inlay or onlay fits perfectly on the tooth. 
At the second appointment, the onlay or inlay is placed on the tooth. And while this procedure it does require two visits, it is much less invasive than going directly to a crown. 
Benefits of inlays on onlays 
The primary benefit is that this procedure allows the patient to keep as much of the natural tooth as possible. In addition, it provides more options to providers to fill hard-to-reach cavities between the teeth. And finally, this procedure also allows the tooth to be strengthened, creating a better seal to prevent further tooth decay. 
Inlays and onlays come in a variety of shades to match your tooth while also preventing staining that occurs from eating and drinking. 
If you are suffering from tooth decay and traditional fillings are no longer working, then give our office a call today for a consultation!