When you think of cosmetic dental procedures, what do you picture? If invasive plastic surgeries come to mind, you might be surprised to learn that today's noninvasive cosmetic dentistry is actually the most popular subset of cosmetic dental procedures. 
Let's get real…teeth are more than just a way to break down food—they're also the first thing someone notices as soon as you flash a smile. And for the millions of Americans who are self-conscious about their teeth, it's no wonder that this lower feeling of self-worth also translates to fewer job opportunities, lower income and greater susceptibility to depression.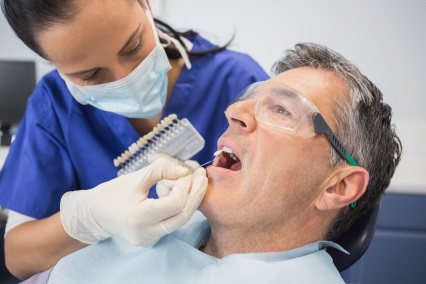 These are all things that we want to help our patients overcome. First we will go over the most popular procedures among our patients as well as cutting edge procedures that may still be a little more experimental than every-day. 
Tooth whitening  
A recent survey showed 80% of Americans aged 18 to 49 want whiter teeth, with women leading in this metric at 85%. And a total of 6 out 10 believe that a whiter, brighter smile would boost their self-confidence, especially those in the age range of 18 to 24. 
Tooth whitening can be done at home or here at Josey Lane Dentistry in Carrollton. However, since at–home products are not as strong as what can be offered by the professionals, it's important to take certain precautions when making your decision. 
Specifically, excessive use of over-the-counter products can be damaging to your teeth. The most common side-effect is that patients' teeth take on a translucent appearance due to too much of a peroxide-based whitening product. When this happens, the teeth appear discolored—even gray—and the tips or corners look translucent. Unfortunately, many people think applying additional whitening on top will bring the vibrancy back. This will only compound the underlying damage.  
Overall, the demand for tooth whitening has instead spurred innovations you can take advantage of with professional whitening treatments. One advancement we use all the time at Josey Lane Dentistry is the use of light activism to help prevent tooth sensitivity. Be sure to ask us more about this if you're curious. 
Improvements in materials 
As cosmetic dental procedures become more fine-tuned, one thing that is continually changing is the combination of materials used, particularly in dental implants and veneers. With the goal of making teeth feel and look more natural, dentistry continues to expand the list of materials we use to make this a reality. 
These advancements have led dentists to expanded materials to include everything from porcelain to composites and resin. Cosmetic dentists have turned into true artists who use 3D technology to restore damaged teeth and improve the overall appearance of teeth, too.  
Emphasis on one-day procedures 
Thanks to even more advancements in dental technology, cosmetic procedures that used to require several trips to the dentist can now be done in a single visit. This helps save your time as well as cut down on dental anxiety. 
For example, for patients who are self-conscious about tooth loss, the American Academy of Implant Dentistry explains the possibilities of same day implants. These allow for the placement of a temporary tooth during the same appointment as your dental implant placement to ensure you don't go a day without your best smile. 
Edgier options 
If you want to add a "little something" to your smile, another edgier cosmetic tooth trend are tooth tattoos. We're not going to pretend there's a real practical end to these, but if you're curious, dental tattoos are designs that are incorporated onto an artificial tooth crown before it is cemented onto the prepared tooth in the mouth. 
Both metal and ceramic crowns can be utilized. Installing the tattoo requires no additional precautions or adjustment procedures than placing a normal crown (and it's a lot less painful than getting a regular tattoo)! The tooth tattoo will last the life of the crown. 
Cosmetic dentistry in Carrollton is a great option for North Texans who feel self-conscious about their smiles. With both at-home and in office options, there is something for everyone and at every price point. 
If you want to improve your smile, then give our Josey Lane office a call today so we can tell you about what we have to offer.